Rehab Gets Teresa Shook Back on Her Feet
Rehab Gets Teresa Shook Back on Her Feet
Posted October 18, 2017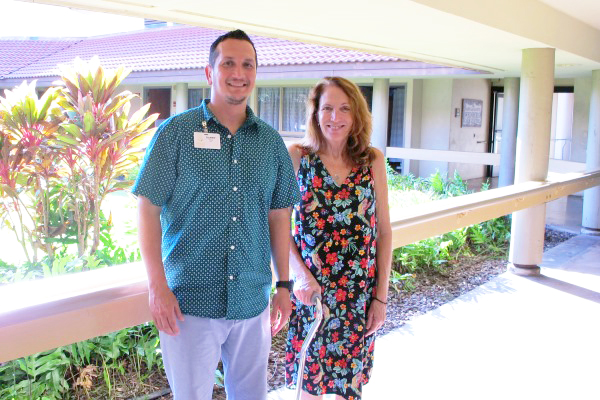 Teresa Shook is a strong woman. Motivated, independent and always active. A fall off of a seven foot ladder while pruning a tree was not exactly a setback she was prepared for. With her pelvic bone broken in three spots, Teresa knew it was going to take much more than a week-long stay in the hospital before she was back on her feet.
She didn't know much about rehab at Hale Makua, but knew it was her only reasonable option to get her body back into proper working condition. "I was not happy about coming here. I mean I wanted to go home and I didn't want to be in a hospital for weeks while I got therapy. The people I spoke with shared the few similarities Hale Makua had with the hospital, but assured me that it was a much different setting."
Teresa was pleasantly surprised when she arrived. Outside of her bedroom window is a bright grassy lawn with big shady trees that provide a light breeze throughout the day. "I look out my window and it's beautiful! The birds are always chirping and often times there's a little cat running around. It feels like home, definitely not was I was expecting."
Teresa has received both occupational and physical therapy from the therapists at Rehab by Hale Makua, they've helped her practice things like doing a load of laundry, doing dishes, and getting in and out of her bed and bath tub so she'll be prepared when she gets home. "The therapists have all been fantastic, they're very good at what they do. They know how to push you to the limits without ordering you around. I mean they had me doing things regularly I didn't think I was capable of at the time".
As for the care she's been receiving from our nursing staff, Teresa says they've all been wonderful, kind and very empathetic. Teresa said she's happy that she made the decision to come to Hale Makua to receive rehab because she knows she wouldn't have progressed so well and so quickly if she hadn't, and she owes that all to her therapists!
If you would like more information about Rehab by Hale Makua please call 873-6638.