Rehab Helps Sandra on Her Road to Recovery
Rehab Helps Sandra on Her Road to Recovery
Posted October 22, 2019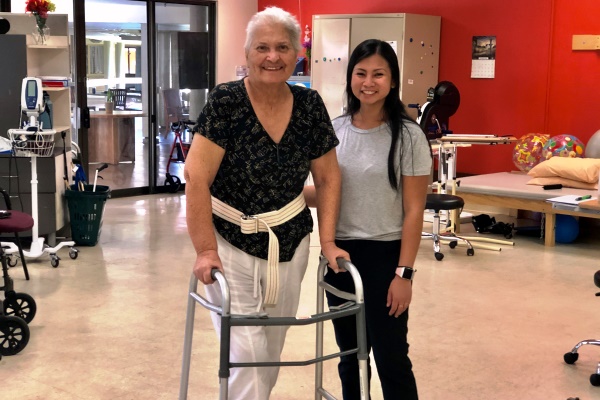 Sandra Wainui is thankful to be alive, and grateful for everyone who has helped her along her road to recovery. A road which was filled with many bumps and turns. It all started with a fall, which eventually lead to many other falls, dizziness and confusion. When her daughter took her to the doctor, they found out she was bleeding in her brain.
Sandra lost consciousness for several days, and doctors said her outlook didn't look good. Hospice care was being discussed, and her family prepared for the worst. One doctor still had hope. After performing a procedure on Sandra, the bleeding stopped and her condition began to drastically improve. Sandra woke up. She was responsive and healing at a rapid pace.
Sandra was admitted to Hale Makua for rehab services, and her progress has continued to be nothing short of amazing. When she first arrived she was fed through a feeding tube, couldn't walk, and barely responded to requests. Her first week at Hale Makua was tough. She was scared to try any therapy because she didn't want to fall again. She had a hard time verbalizing her needs. Over the past three weeks, Sandra has shocked everyone. She is now able to walk using a walker, is able to respond verbally to requests, and had her feeding tube removed so she can go back to eating what she wants.
"Fear delayed me, but it didn't stop me. I was determined to work hard and gain my strength back and that's exactly what I've done. I feel stronger and more confident every day!" Sandra is grateful to her Occupational, Physical and Speech Therapists for their perseverance. "They push me every day, congratulate me on my milestones, and encourage me to keep going."
Sandra also said that the nurses and CNAs have done a great job of making sure she is comfortable and that all of her needs are being met. "They are always coming to check on me, make sure I'm not in any pain, and help out with whatever they can. Everyone here has been outstanding."
Because of the continuous care and support from our therapists and nurses, Sandra will be back to living her best life in no time!