Rehab: Leading the Way to Recovery
Rehab: Leading the Way to Recovery
Posted December 02, 2015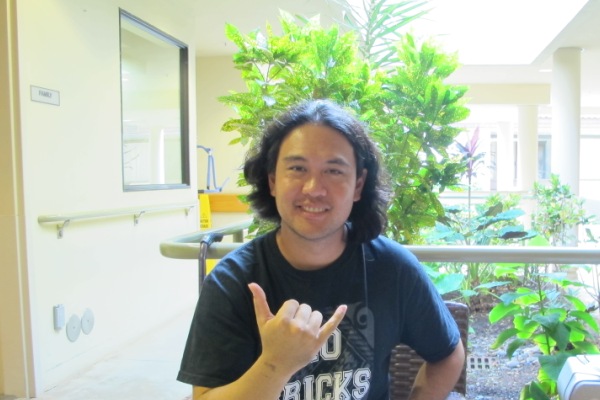 David Birano's world turned upside down in an instant. On a Monday like any other, David began experiencing a severe headache that did not go away. Two days later, after being treated for a misdiagnosis of nasal flu virus, the headaches not only continued, but worsened and he suddenly lost use of his left hand, walking became difficult, and vision in his left eye was impaired. He immediately went to the Emergency Room at Maui Memorial Medical Center (MMMC) where he was diagnosed as having had a stroke. He spent ten days at MMMC and had countless number of tests performed on him. At 31 years old, David went through each test completely bewildered, wondering why and how this happened and what would happen next.
David was admitted to Hale Makua for Rehab services on October 23rd because he needed a lot of help. He could barely use his left hand, he was in a wheelchair, and he had difficulty doing things for himself. He was at a complete loss of what to do to and where to start to improve the condition he was in. Then he met Kasey, one of the physical therapists at Hale Makua Rehab. Kasey worked with David taking him step by step through the process of healing.
David was determined to get better and he worked very hard doing everything he was required to do in his physical and occupational therapy. During his physical and occupation therapy, his determination was driven by thinking of his four year old daughter. He recounted her premature birth, weighing a little over one pound, and how she fought for her life. She was hooked up to machines that helped her perform necessary functions, such as breathing. Everyday she got stronger, to the amazement of those caring for her, and she was eating and breathing on her own much sooner than expected and was able to leave the hospital after four months.
David knew that if his daughter could do it, then so could he. He pushed himself everyday and in a matter of days, David no longer needed a wheelchair and was able to use his left hand. Less than a week after being admitted, David met all of his goals set by his physical therapists and was discharged on October 31st, an astounding eight days after being admitted.
David still has a long road to recovery. He has a great support system ready to help and motivate him as he continues on his path. He also attributes much of his success to Kasey and other Hale Makua Rehab staff for giving him the confidence and tools he needed at such a difficult time in his life. He is especially looking forward to continuing his physical therapy with his grandmother who had knee surgery in September and is already walking on her own. It seems that this is a family with a fighting spirit, a quality will definitely keep them moving forward.