Rehab Prepares Donnie to Go Home
Rehab Prepares Donnie to Go Home
Posted December 08, 2017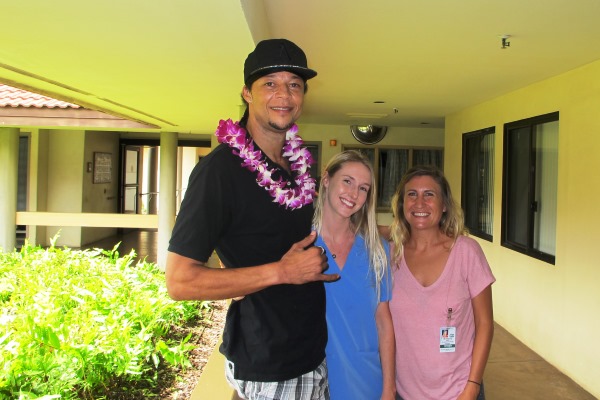 Donnie Young never imagined he'd be staying at Hale Makua at the age of 43, but that's exactly where he found himself after waking up one morning unable to move. After a brief stay at Maui Memorial Medical Center, Donnie sought further help from Rehab by Hale Makua in early August of this year.
Donnie's health had waned prior to his admission to Hale Makua. He was unable to walk, unable to perform activities of daily living (ADL) without assistance, and lost some of his hearing. Our team of physical and occupational therapists got to work immediately. Communication was a little difficult due to Donnie's hearing loss, but his easy going personality and sense of humor and the resourcefulness of our therapists, made sure he understood everything required of him to get him back o n his feet and back home as soon as possible.
Donnie had to work really hard. Starting with wiggling his toes, he eventually was able to stand, and then walk with a walker, which was a very proud moment. He says, "The therapists work really hard with you and leave a lot of the therapy up to you. They are knowledgeable, have the utmost patience for all of the residents they work with, and have a lot of experience. They use good techniques to push you to your maximum capabilities."
The care and rehabilitation services that Donnie received at Hale Makua prepared him to return home by giving him the necessary tools to be an independent person again. Before leaving Hale Makua in October, Donnie had to demonstrate his independence by walking flights of stairs and performing activities of daily living on his own or with minimal assistance, which he successfully did. "My overall experience with the Rehab team was awesome. It has been a great experience being a resident at Hale Makua for two and a half months," said Donnie.
Donnie still has some ways to go for a full recovery, but thanks to the therapists at Rehab by Hale Makua, he is on path to get there one step at a time.