The Legendary Life of Masao Motooka
The Legendary Life of Masao Motooka
Posted May 23, 2023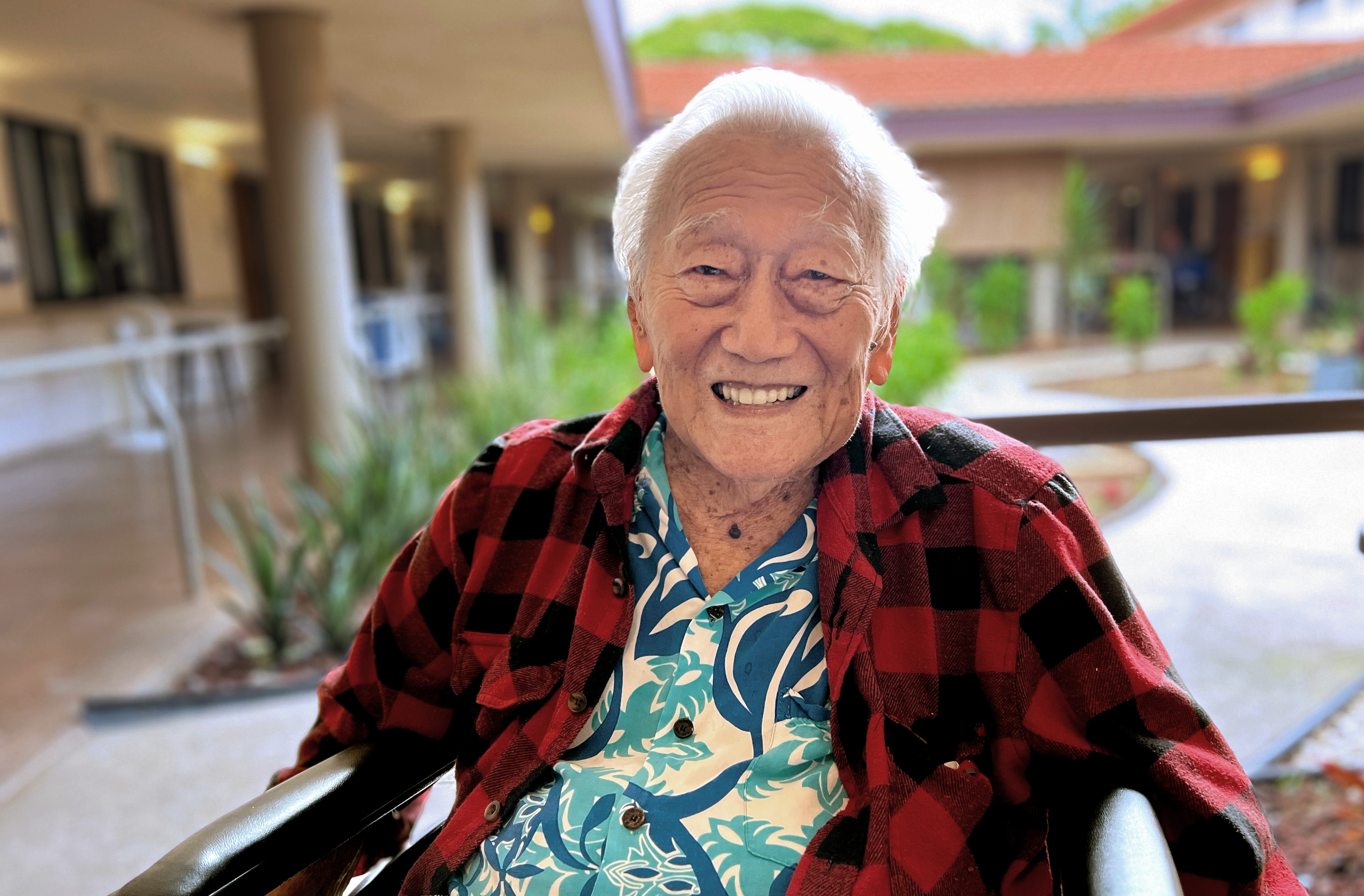 Distant explosions echoed across the island of Oahu, as a young, 16-year-old Masao "Masa" Motooka noticed a number of planes flying across the far distance. "I thought it was just routine maneuvers," Masao recalls. "I didn't know it was the real thing." The "real thing" that he had witness was the Japanese bombing of Pearl Harbor on that fateful morning of December 7, 1941.
Masao was a Maui boy from Hana, but his parents had sent him to Oahu for high school to get a better education at Mid Pacific Institute. He never imagined that while he was there, he would bear witness to such a significant historical event. A few years later he was drafted into the military as a Japanese interpreter.
As a Nisei veteran who served in World War II, Masao has received many medals for his service, including the Congressional Gold Medal (the highest civilian award bestowed by the United States Congress). In 2022, a portrait of Masa with the faint image of the Congressional Gold Medal behind him was painted by Maui artist, Kirk Kurokawa and won the Gene & Ruth Freedman People's Choice Award for the Schaefer Portrait Challenge.
Though Masao can be remembered for all the great achievements and honors he received for his military service, if you ever get a chance to meet him, you will also remember him for his ability to unarm you with this sense of humor and down to earth charm. He even befriended a handful of celebrities who spent time in Hana. Aside from going to school with Patsy Mink, some of his notable acquaintances include Richard Prior, and even Charles Lindberg whom Masao called "Charlie". He shared that he spent time with Lindberg during his final months, and even helped construct his coffin to his liking.
Masao's charm also won the heart of a special Hana girl named Violet. Together they had five kids, three grandkids, and two great grandchildren. Many years ago, Violet was admitted to Hale Makua for care, and Masao would visit her every day and push her around the facility in her wheelchair. (Read an article we published in 2017 about Masao and Violet's secret to a long and happy marriage).
It's been a few years since Violet's passing, and now Masao has found himself at Hale Makua once again. This time, to receive care for himself after experiencing a few falls at home. Here he does rehab as he works to regain the strength he needs to get around safely.
Though he is mostly confined to a wheelchair at the moment, Masao is as "gasa gasa" (Japanese for "restless") as ever, wandering around Hale Makua making friends, doing different activities, or visiting his sister, Helen who is also a resident here. It has been a real pleasure getting to know Masao, and what an honor it has been for us to serve the man who served this great nation.