The Life and Art Shaped by George Sano
The Life and Art Shaped by George Sano
Posted January 11, 2023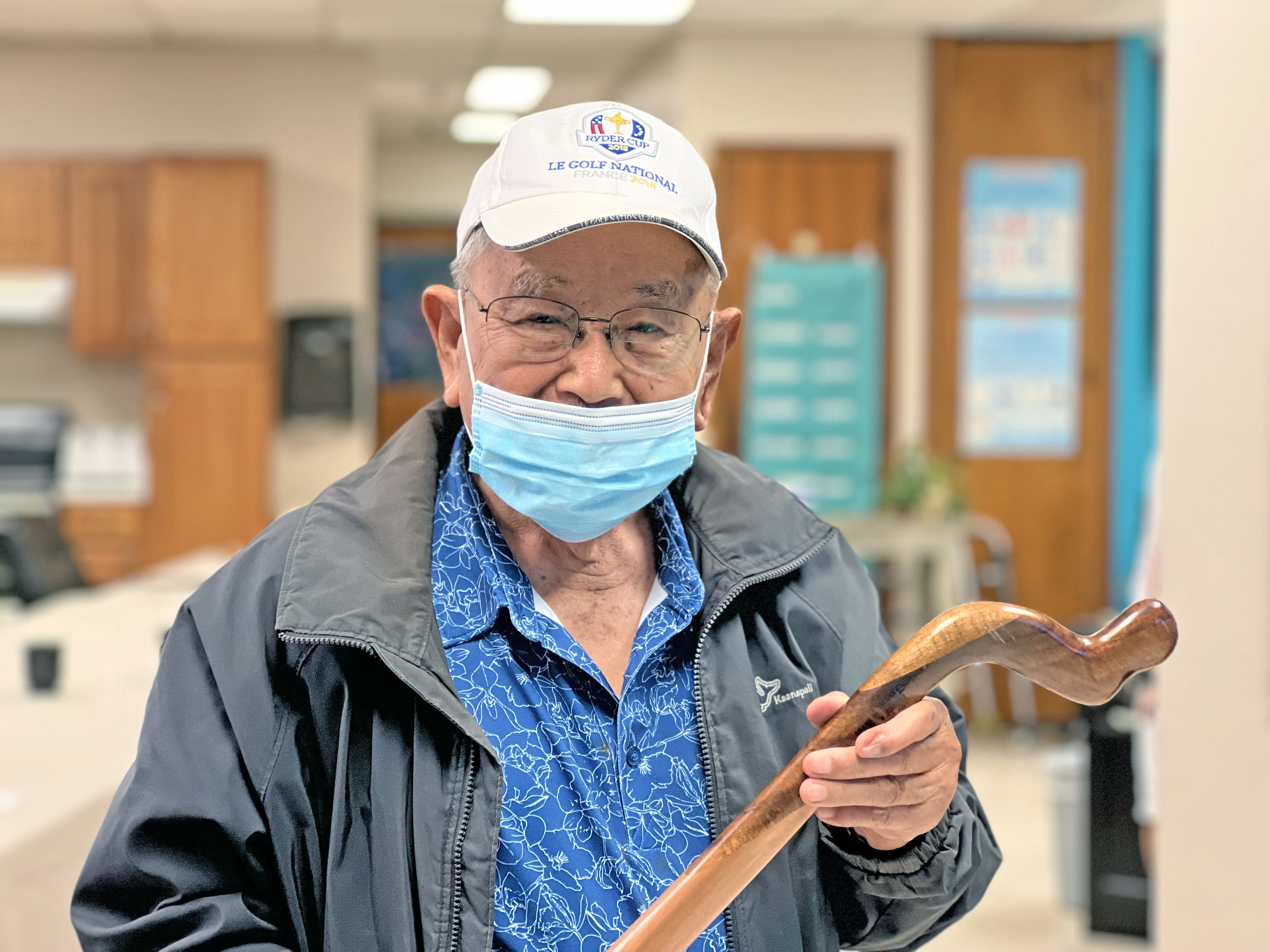 Different fragments extracted and merged together are shaped and formed into one solid, resilient, and astonishing finished piece. This description not only describes the impressive woodwork made by George Sano, but also the amazing life that he leads.
Hale Makua Adult Day Health client, George Sano, has been living a long and prosperous life. Born and raised on Maui, George grew up in Wailuku and graduated from Baldwin High School. He was drafted into the military in 1944, and was sent to Japan during WWII for a year as a Japanese interpreter.
He later pursued education and received his Bachelor's and Master's degree on the mainland, then returned to Hawaii to become a high school teacher. He later worked under the Department of Education as an Administrator for Maui Technical School. There, he helped implement programs to establish the school into the University of Hawaii school system in the 1960s where it was then renamed Maui Community College.
Aside from his outstanding academic career, his leisurely passion is in woodworking. He is self-taught, and over the years has crafted beautiful works of art with koa and other mixed wood. George never sells his artwork, but chooses to donate his pieces instead. He recently donated a handful of koa and mixed wood canes to Hale Makua (one is pictured with him in the photo). He has also donated his pieces to the Bailey House Museum, Cameron Center, and the Kahului Airport. In front of the entrance to one of the main terminals at Kahului Airport, you will find an impressive display of George's Hōkūleʻa canoe replica that he constructed about five years ago.
George now spends his days at Hale Makua Adult Day Health after previously experiencing a fall at home. George says the staff are helpful and nice, and they have him do foot pedaling exercises to strengthen his legs. He said this has really helped him get stronger. "When I first came here," George shared, "I had to use the walker. Of course I still use the walker, but [now] I can walk without the walker if I need to." His daughter even got a foot pedal exercise bike for him for Christmas to use at home after she saw how helpful it was for him.
George hopes to get stronger so he can comfortably get back to work in his woodshop. Despite all that this amazing man has done in his life, one of the things that might impress you the most is that he is 99 years old and still as sharp as the tools in his woodshop! George says he still has unfinished work to be made, so we hope we can help him get back into shape soon so he can finish shaping and sharing more of his beautiful art with the world.