Vintage Quilts Spread Warmth and Happiness
Vintage Quilts Spread Warmth and Happiness
Posted February 13, 2019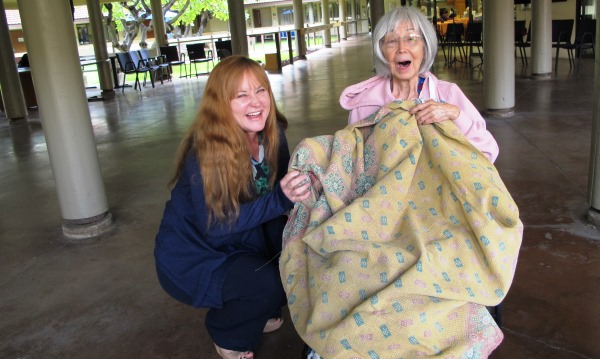 The weather has been unusually cold on Maui and thanks to a generous donation from our friends at Vintage Kantha Maui through a Montessori School of Maui donation drive, some of our residents have been able to keep warm in style. Vintage Kantha is a small, locally owned Maui business that hand stitches together vintage saris from India to make beautiful, one of a kind quilts.
CHRO Ted Tucker and CFO Kirsten Szabo walked around on a chilly morning and passed the quilts out to residents. The look on their faces was priceless and full of excitement to receive these unique, warm gifts.
Checkout more photos of residents with their Vintage Kantha quits here.