We Love Our Volunteers
Posted September 21, 2017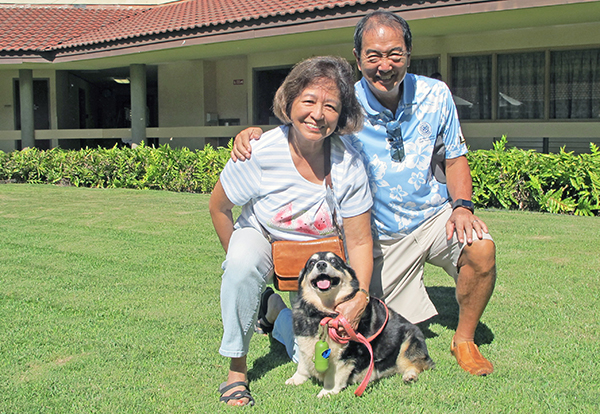 Moonlight, a lovable six year old Corgi, and her owners Maria and Hilton Unemori have been spreading tail wags and happiness at Hale Makua Kahului. Maria says what she loves most about bring to Moonlight to visit is "seeing the residents' faces light up with pure joy when Moonlight and I approach them. We have received positive feedback, and this motivates me to keep coming."
"We visit with a client who always asks for kisses from Moonlight. We met a lady who said she never owned a dog but wanted to pet her, and another who said she misses her dog and wanted a hug. Moonlight has been quite accommodating and I have enjoyed meeting the different personalities at Hale Makua. The time I spend at each visit has given me a very different perspective about life."
As part of Hale Makua's Eden Alternative journey, we see the benefits of enabling residents to have close, continuing contact with animals. Hale Makua makes it easy for family and visitors to bring their furry friends to visit with a easy pet policy.
Maria adds, "I have owned many dogs over the years, and Moonlight is one of the special ones. She is affectionate, mellow, obedient, and a fast learner. So when I read about dogs being allowed to visit Hale Makua, I jumped at the chance to share my dog, as well as visit with the clients."
We're grateful for their continued support and sharing Moonlight with us. If you're interested in volunteering at Hale Makua or having a pet visit, please contact our Volunteer Coordinator at danielles@halemakua.org or (808) 871-9283.