Welcoming in the Year of the Ram
Welcoming in the Year of the Ram
Posted February 20, 2015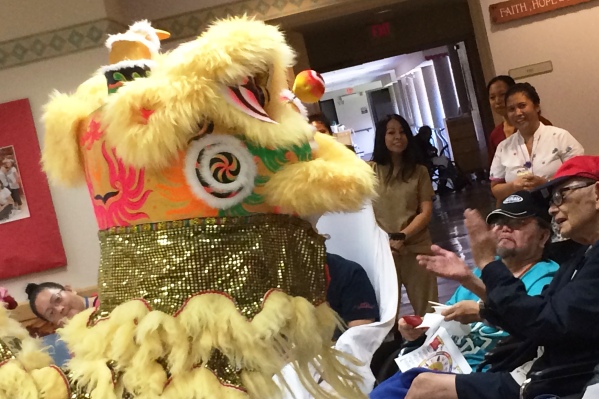 Kung Hee Fat Choy! While the Chinese New Year is frequently celebrated with lion dances throughout Maui, the lion's visit to our communities was something extra special this year.
Care Partner Erllie Cabacungan, Maintenance & Equipment Coordinator, borrowed a Chinese lion costume and schedule a show on the Chinese New Year, February 19, in Hale Makua Kahului. It was scheduled for Hale Makua Wailuku on February 27, but Erllie wanted to make the visit on New Year's Day, the 19th, and not wait until the 27th. Care Partner Tim McGee, Maintenance Supervisor, agreed and volunteered to be the lion's head. Care Partner and Maintenance Worker Junior Quiocho volunteered to be the tail.
They showed up at the Wailuku campus unexpectedly on the morning of the 19th, surprising not only the Elders but the staff as well. There were so many smiles and laughs, and surprise that this was happening without being on the Activities calendar. Principle 5 encourages us to have unexpected, spontaneous interactions in order to cure boredom. Erllie, Tim, and Junior made that happen, and made everyone's day!