You Can Help Residents Go On Bike Rides
You Can Help Residents Go On Bike Rides
Posted August 15, 2017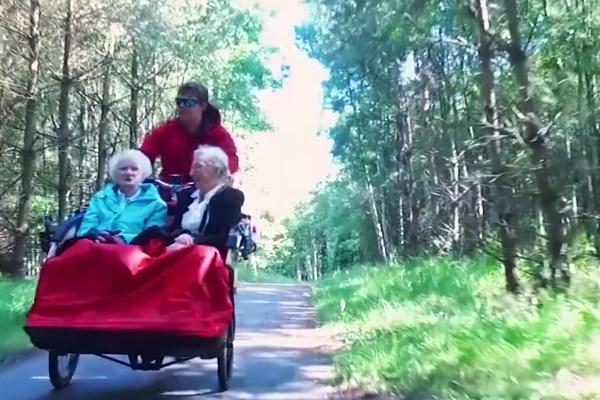 In the 40 years that Activities Director Teresa Lopes has worked at Hale Makua, she has made a mission out of finding meaningful activities for our elders, and creating opportunities that they never thought they'd have a chance to enjoy again. "Where there's a will, there's a way" is an apt description of her attitude towards ensuring that residents lead fulfilling, happy lives while at Hale Makua Kahului. So it was no surprise that when she saw a video on Facebook with over five million views (now at 26 million) of nursing home residents being taken for bicycle rides with the fresh air blowing in their faces, she exclaimed, "We have to find a way to do this, it would change our resident's lives! Residents on bicycles? Can you imagine how happy that would make them?"
The video that went viral was BBC video "Amazing Humans - The Medical Student Trying To End Loneliness In The Elderly", which features a Cycling Without Age volunteer. Cycling Without Age is a Denmark organization that started with one person's dream to get older adults back on bikes a dream of creating a world together, in which the access to active citizenship creates happiness among our fellow elderly citizens by providing them with an opportunity to remain an active part of society and the local community. Cycling Without Ages does this by giving them the right to wind in their hair, the right to experience the city and nature close up from the bicycle and by giving them an opportunity to tell their story in the environment where they have lived their lives. The organization build bridges between generations and we reinforce trust, respect and the social glue in our society.
The responses from residents have further fueled our motivation to begin taking residents for bike rides:
"I have never rode a bike before in my life, I never thought I could start at my age, but I would love to, it would be so much fun!" - Marie Osaki, resident since 2016
"If we can ride a bike now, at our age, we can do anything! I can't wait!" - Nancy Kawamura, resident since 2008
Positive resident feedback, and expressions etched on their faces while they watched the BBC video further fed our dream of getting a trishaw bike to take our residents on rides. Teresa shares, "In my 40 years of working in long term care, the biggest reward is bringing joy to our residents young and old. I have tried to always think outside the box and do things that we would do if we lived at home. I have taken residents from Maui to Oahu for day trips, we have gone to the Big Island to see the volcano, and if there was snow on Haleakala we would load the bus and go up on the mountain to play in the snow. Our residents deal with their disabilities and loss of independence every day and it is important to help them to continue to live life to its fullest, to have reason to get up each day. I honestly feel that offering these bike rides to them would be an awesome benefit and addition to their lives, and I would be honored to be able to take them out, get the wind in their hair and provide this incredible activity to our wonderful residents."
You can help make this dream a reality. With your help residents like Marie can enjoy her first bike ride, and Nancy can do something she thought was impossible at her age. We've already received $1,000 toward the purchase of the $8,500 custom trishaw deliver to our door. If you'd like to help give residents the opportunity to feel the wind in their hair while going for a bike ride, you can make a donation here.