Youth Warms Hearts (and Laps)
Youth Warms Hearts (and Laps)
Posted August 16, 2016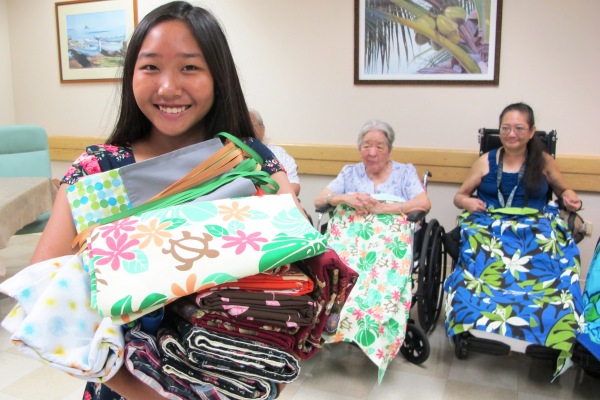 Jacy Hanada is not your typical 12-year old. This inspiring girl recently celebrated her 12th birthday and instead of gifts, asked friends and family to donate to a sewing fund. She used the donated funds to purchase fabric, in different prints and colors, that she sewed into lap blankets and walker buddies and then donated them to residents at Hale Makua.
Jacy visited our Kahului campus on July 28 at which time she was able to meet five of our residents and gifted each of them with one of her hand sewn blankets and another resident with a walker buddy. It was a touching moment when resident, Celerina Morondos was brought to tears with the realization that someone so young cared about her and other residents so much. Jacy is pictured above with the items she sewed and residents Nancy Kawamura and Vilma Sanchez happily displaying their new lap blankets.
Jacy's great-grandmother had a brief stay in our homes and with the help from our Rehab staff got strong enough to return home. That's how Jacy got the idea to do a service project for our residents. Having taken sewing classes for the past three summers, she decided to put her sewing skills to use. After three weeks of what seemed like constant sewing, according to her, Jacy had sewn a total of 16 beautiful lap blankets and six walker buddies (a bag with multiple pockets that attaches to walkers). A family member suggested to Jacy that she sell her items after seeing the finished products, but she insisted on donating them.
Seeing how much her gifts meant to our residents, Jacy said she is, "very glad that she did this project." She still has some money in her sewing fund and is already thinking of another project to do for our residents at Christmas. But for now, she's taking a well deserved break from sewing.
Mahalo, Jacy, for your kindness. You are an inspiration to young and old alike. If Jacy has inspired you to do a service project or make a donation, please call our Development and Volunteer Coordinator at (808) 871-9283 or email danielles@halemakua.org.