Geneva Hestand's Sweet Life
Geneva Hestand's Sweet Life
Posted September 13, 2020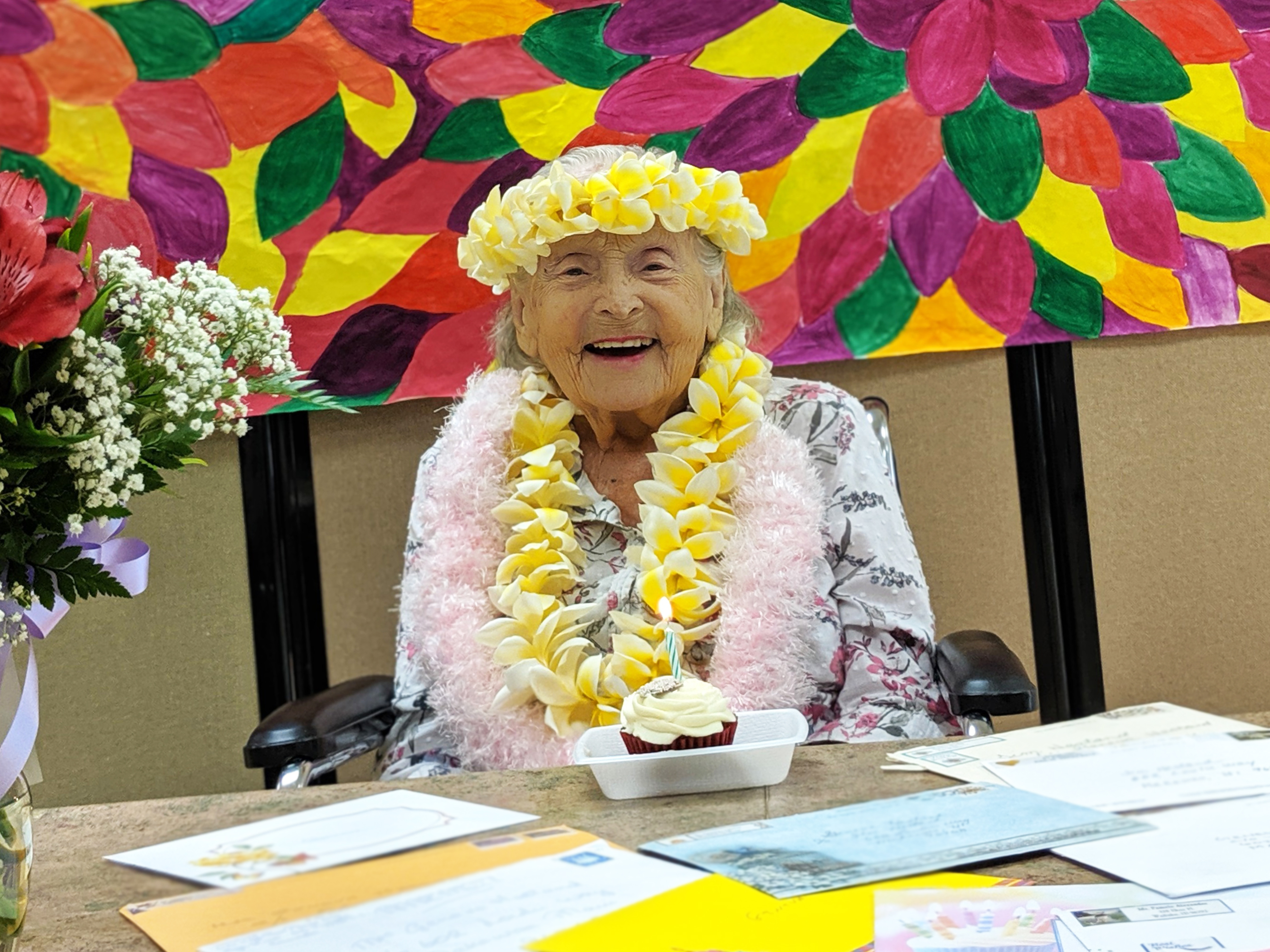 Today is Grandparent's Day, and here at Hale Makua we have the privilege of caring for many grandparents in our community. We recently had the pleasure of speaking with one of our resident's family members, to learn more about her life and the special bond she shared with her grandchildren.
Adorned with a beautiful plumeria lei around her neck and a matching haku lei graced around her head like a crown, resident Geneva Hestand truly looked and felt like a queen that special day back on June 1, 2020. There she sat in Hale Makua's Activities department at her virtual birthday celebration, lit up with delight as staff joined her family on the computer singing "Happy Birthday" as she blew out her 100th birthday candle.
Over the course of a century, life has taken Geneva all over the world, given her a wonderful marriage, and blessed her with a son, two granddaughters, and three great-grandchildren. Geneva was born in Albuquerque, New Mexico, but it was her husband Charles' job as a CPA for a large oil company that brought her and their son, Jim, to live in in exotic places like India, Sri Lanka, Pakistan, and the Philippines. Geneva enjoyed being immersed in new cultures, and she even took up Indian dance. After serving a nice career, Charles retired and he and Geneva settled on Maui. It was here that they started a new chapter in their lives as grandparents.
Jim and his family moved to Maui shortly after, and Geneva and Charles' enjoyed every minute spent with their granddaughters, Gillan and Shanna. Shanna, talked about her close bond with Geneva, and how they even shared the same birthday. Shanna admired her grandmother's bold, outgoing personality, and how she was always so animated, leading the way in everything they did. The girls spent many nights at their grandparent's house, and were spoiled by all the sweets Geneva would whip up including her specialty chocolate pie or hot cocoa.
After Charles passed away many years ago, Geneva lived independently. Shanna and Gillan were now grown up and had moved away, but always kept in touch with Geneva. Shanna eventually moved back home and Geneva spent some time with her great-grandson. When she got older, Geneva took some falls in her home and broke her hips. Though she lived in the cottage next to her son, Jim, the family worried that it was no longer safe for her to live alone. Geneva was admitted to Hale Makua for rehab, and her physician recommended that she remain there to receive the extra care she needed.
"It was a rough adjustment at first," Shanna admits about Geneva's admission to Hale Makua. "But she's been there about three years now and I am really grateful that she's there. We would not be able to take care of her in the manner that she's being taken care of now."
Geneva also found a new breath of life at Hale Makua, as she enjoys playing bingo with the other residents or watching the different activities happening around campus. "It was neat to see her try some different things and be more sociable again," Shanna shared. "In her later years, she was not as social because she couldn't get around. Her being at Hale Makua kind of helps."
Though Shanna is not able to visit her grandmother during the pandemic, she still makes it a priority to keep connected. Shanna visited Geneva with her dad at the last Hale Makua parade, calls Geneva every Saturday, and mails her cards, magazines, or Geneva's favorite treat (chocolate) which Geneva claims is the secret to a long life.
"There is a really special bond between a grandparent and a grandchild," says Shanna. "I'm so grateful for having a fearless grandma that showed us how to be her best self all these years."
After nearly seven months apart, Geneva and her family will soon be given an opportunity to reunite and spend some much-needed quality time together as Hale Makua will be coordinating drive-through visits at Kahului for residents and their loved ones in October. They look forward to being able to see each other once again.
If you are so fortunate to have a special grandparent in your life, we hope that you are able to connect with them during this difficult time. And if you are a grandparent, Happy Grandparent's Day from all of us at Hale Makua!
If you have a loved one at Hale Makua and would like to schedule a drive-through visit (Kahului) or window visit (Wailuku), call (808) 877-2761 and connect to their nursing neighborhood to schedule an appointment.